Why DHA?
DHA is an omega-3 fatty acid that supports the healthy growth and development of your child's brain, eyes, and nervous system. It serves as an important building block and is commonly introduced during periods of rapid growth, such as during pregnancy, infancy, and childhood.
Where do I get DHA?
DHA is naturally found in certain foods, like oily or fatty fish. We know how important fish is as part of a healthy lifestyle, providing key nutrients and essential fatty acids that our bodies have limited ability to make on their own.
Few foods are naturally high in DHA and some, known as fortified foods, have omega-3s added to them. DHA is found almost exclusively in fish like sardines and anchovies, and in some enriched foods like eggs.
How much DHA do I need?
The answer depends on several factors, including your age, weight, and diet.
The World Association of Perinatal Medicine, along with other recognized health organizations, recommend 200 mg of DHA daily for pregnant and breastfeeding moms. After your baby is born, Health Canada recommends by 24 months of age, children have 2 servings of oily fish a week.
Getting enough DHA from food alone can be difficult. Research shows, on average, many of us are not meeting the recommended intake levels for seafood and could be missing key nutrients that play an important role in our overall health.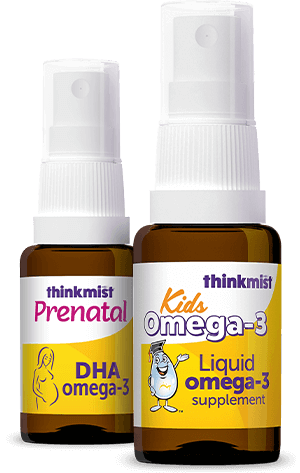 Thinkmist® and Thinkmist® Prenatal are available for those concerned about receiving enough DHA. View them here.
National Institutes of Health. "Omega-3 Fatty Acids Fact Sheet for Health Professionals". NIH Office of Dietary Supplements, U.S. Department of Health and Human Services, Apr 2019. Available at Read more. Accessed Jun. 2019.
Bradbury J. "Docosahexaenoic acid (DHA): An Ancient Nutrient for the Modern Human Brain." Nutrients.;3(5):529–554. doi:10.3390/nu3050529.
Greenberg, James A.. "Omega-3 Fatty Acid Supplementation During Pregnancy." Reviews in Obstetrics & Gynecology, National Center for Biotechnology Information, Sept. 2018, Read more.
Huelke, Donald F.. "An Overview of Anatomical Considerations of Infants and Children in the Adult World of Automobile Safety Design." Annu Proc Assoc Adv Automot Med. 1998;42:93–113. [online] Read more.
Koletzko, B. et al. "The roles of long-chain polyunsaturated fatty acids in pregnancy, lactation and infancy: review of current knowledge and consensus recommendations." Journal of Perinatal Medicine, J. Perinat. Med., 2008;36:6-9. doi:10.1515/JPM.2008.001.
Health Canada. "Nutrition for Healthy Term Infants: Recommendations from Six to 24 Months." Health Canada, Jan. 2015, Read more.